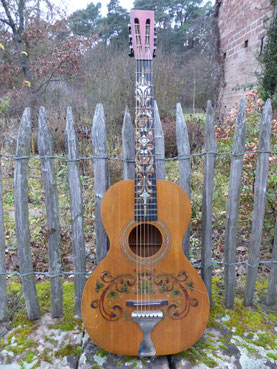 This is an early Oscar Schmidt Stella from the 1910's with spectacular  decals.
Schmidt  used decals on their lower end instruments often and  called it "decalcomania" in the catalags. Decals on the fingerboard, like the beautiful here, were seldom used. The decals, as well as the guitar, are in very good shape.
But not only the decals make this one an interesting guitar. If you examine the spruce top closly, you can see that this one was glued together from three pieces
of spruce. Again of interst is the bracing of this Stella. The last two guitars of the month (September and October 2016) have 4 top braces. This one has, like many earlier Stellas, only two. One before and one behind the soundhole.
The braces are triangular in profil and much higher than the one they used in the 1930's. This is working very good.
The back and sides are made of solid birch. The neck is made of poplar, very thick and soft v shaped. The scale length is 63,5 cm (25")
It has a 42,2cm (16,61'') long concert sized body with a lower bout of 33,6cm (13,35''), and a upper bout of 23,9cm (9.41'').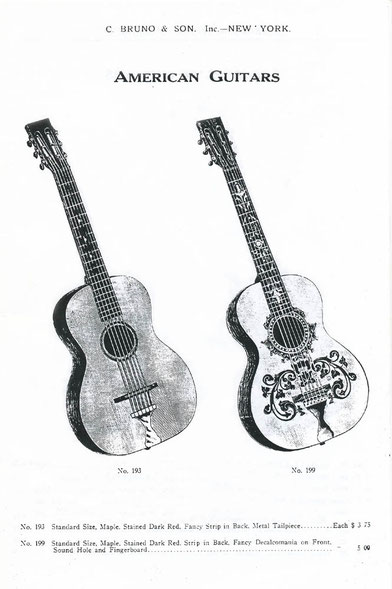 A very similar Oscar SChmidt guitar appears as guitar no. 199 in a 1912 "Bruno & Son" catalog.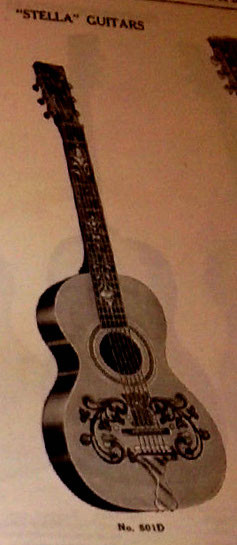 Mid 1910's Schmidt catalog shows exact the same model.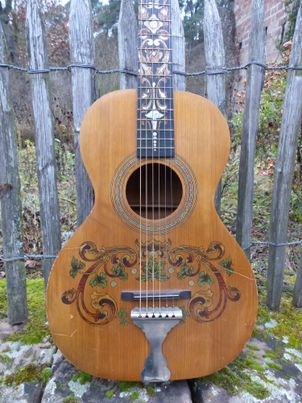 Solid, three piece spruce top, with fancy decals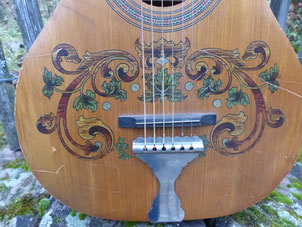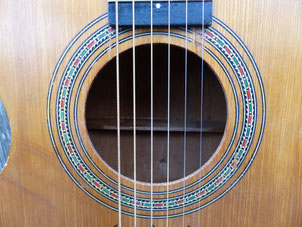 Brown stained, solid birch back with decal strip.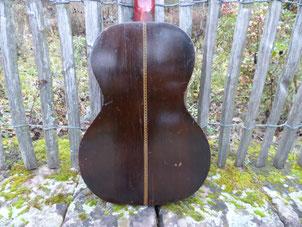 Back strip imitates the fancy multicolor purfling used on upper end Stellas.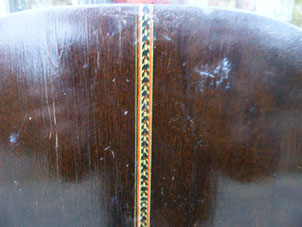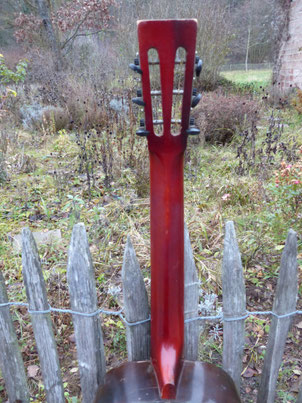 Fancy  flower decal on the fingerboard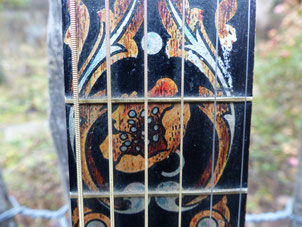 Original ebony nut. Nut wide is 46mm (1,81")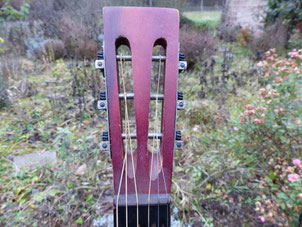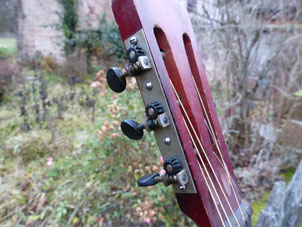 Original tuners with black knops and black gear-wheels!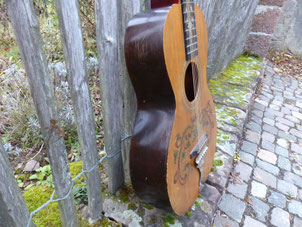 Soild birch sides. Body is  9 cm (3,54") deep at the lower bout
Deep,  barky tone  with a lot of punch in the trebles. Beautiful singing slide voice.
Like mentioned above, the guitar has only two top braces and as a  resut it  produces a nice reverb.
It looks to me ideal for Sylvester Weavers "Guitar Rag". With singing trebles and a strong bass.
Sylvester Weaver holding a  a little larger sized parlor guitar.
Sylvester Weaver was born July 25, 1897 Louisville, Kentucky and started his recording sessions on October 23, 1923. His recordings are the very first country-blues recordings and the first recorded slide guitar songs.
Weaver lived most of his life in Smoketown (neighborhood southeast of downtown Louisville, Kentucky). He recorded until 1927, sometimes accompanied by Sara Martin.
He often used the bottleneck-style technique and played his guitar probably with a knife. His recordings were successful but in did not mad records after 1927.
Weaver died on April 4, 1960 almost forgotten. He was not rediscovered during the country blues revival in the 1950.
Guitar Rag was recorded on Nov, 2, 1923 and again on April, 12, 1927 both in New York city for Okeh. On the 1927 recording he probably used a guitar banjo.