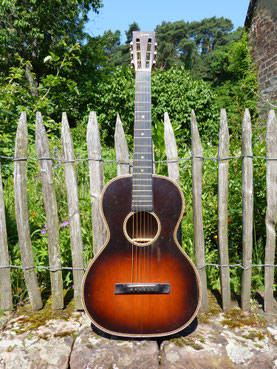 This one of the typical 1930s sunburst Schmidt guitars. Many different brand names appearing on this model, like Stella, Artist, LaGraft, National Academy, Kunow and, like on this one, Marcia. Marcia was a distributors brand name and it appears on many different guitars. Many of them are not Schmidt made, but it looks like that a large number of the early Marcias came out of the Schmidt factory.
Our example has  a good quality red spruce top and birch back and sides.
The top edge and soundhole is bound with a beautifully colored wood  purfling. 
The Schmidt catalog called this type of sunburst finish a shaded satinfinsih, which is in good shape.
During the last years i saw a larger number of this  shaded satinfinish Stellas
and they were all exceptionally good sounding instruments. This one really stands out of the crowd too. A great player with a perfect neck set made by master luthier Stefan Zirnbauer of the Munich Repair Shop. Top seam was glued somewhere back and the bridge has some work done to it.
This is a concert sized guitar with 34,2cm (13,5'')  lower bout. So it is  a larger concert size guitar. The smallest  i saw  had only 12,5" across the lower bout.
Body  is 45,5cm (18'') long,  24,7cm (9,73'') wide at the upper bout. The scale length is 63,2 cm (24,9").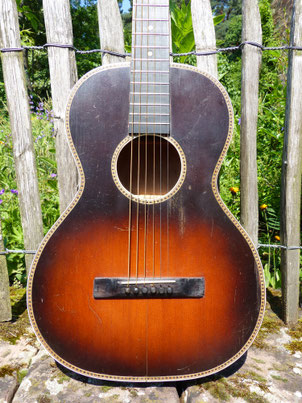 Sunburst finished spruce top. Top edge is bound with celluloide.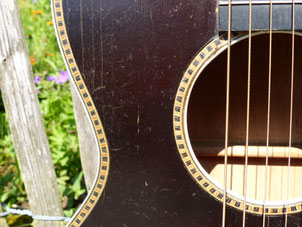 Great multicolor wood purfling around the soundhole and top edge.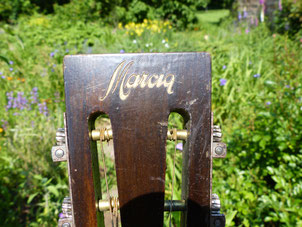 "Marcia" embossed headstock.
Solid birch back with decal strip through the center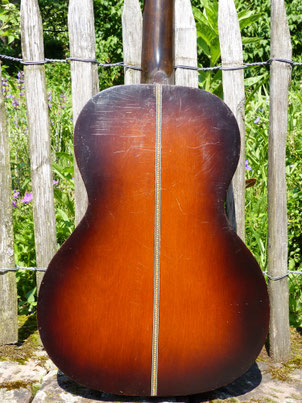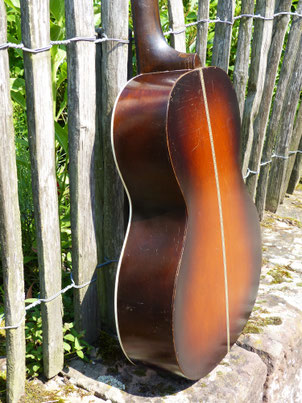 Soild birch sides. Body is  9,3 cm (3,7") deep at the lower bout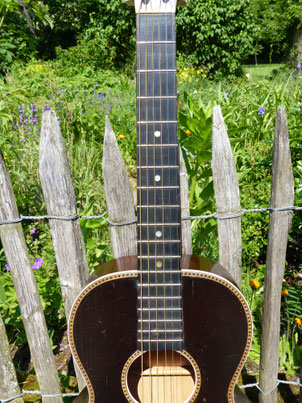 Black stained maple fretboard. New  bone nut, wide is 48mm (1,89").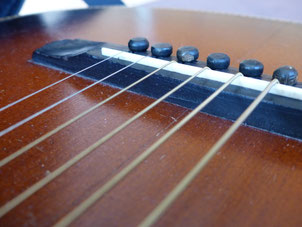 Many bridges were imported from Germany and many are embossed, like this black stained maple bridge.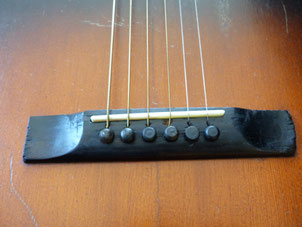 New bone saddle. Bridge has some crack repairs and the original slot was filled.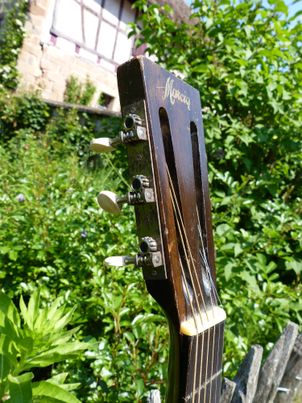 This one has avery warm tone with a lot of bass. Great for finger and flatpicking. It is a killer slide guitar too. It ismind blowing when played in open D-tuning,
so i decided to record a piece in this tuning. I chose the beautiful  Rev. Robert Wilkins Song "That's no way for me to get along".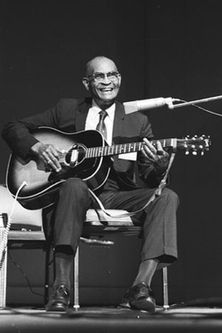 Reverend Robert Wilkins in the 1960s, playing a Gibson guitas. There is no known picture of Wilkins from the 1920's
or 1930's.
Robert Wilkins was born in Hernando, Mississippi on January 16, 1896. He recorded Blues from 1928 to 1936 for Victor and Brunswick records.
In 1936 he quit the Blues, after witnessing a murder and joined the Church.
He became a minister and  was rediscovered in 1964 during the folk blues revival. He  perfomed his gospel blues f.e. at the 1964 Newport Folk Festival.
In 1964 he also recorded a full album called "Rev. Robert Wilkins: Memphis Gospel Singer".
Wilkins died on May 26, 1987 in Memphis, Tennessee.
"That's no was for me to get along" was recorded on September 23, 1929
for Brunswick records. Wilikins  performed and recorded  gospel versions of the song, called "The Prodigal Son"  in the 1960's.