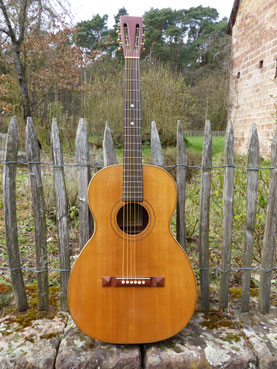 Many Schmidt guitars were sold with a Galiano lable, but not all Galianos are factory Schmidt made instruments. Many were handmade  by luthiers like Antonio Cerrito, Joseph Nettuno or Rafael Ciani. This is one of the handmade Galiano grand concert guitars. It has oviously some similarities to Schmidt made guitars. F.e. the Schmidt made rosewood bridge, the neck shape with longer scale and the bracing pattern with 3 parallel top braces and large bridge plate. Main differents to Schmidt guitars is the body shape and the neck joint. Schmidts factory guitars have a dovetail  neck joint usually , hand-made Galianos have mortised neck joints, like this one.
The guitar is very well preserved and among the best sounding grand concerts i've ever heard. It is an upper range instrument from the late 1920s with a solid spruce top, solid mahagoni sides and a one piece, solid mahagoni back. The mahagoni neck was professionel reset by Michael Hauver. Michael did once again a great job. The guitar plays like butter and the reset increases the sound quality up  several steps.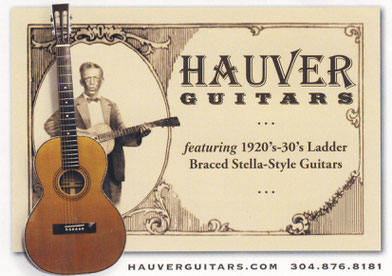 Michael Hauver is a great luthier, specialized in building ladder braced guitars.
The guitar has the original  "Galiano"  label. The grand concert sized body is
51,8cm (20,4'') long., 37,5cm (14,76'') wide at the lower bout and 26,7cm (10,51'') wide at the upper bout. Body is 10cm (3,94'') deep at the lower bout.
Scale length is 66,7 cm (26,25").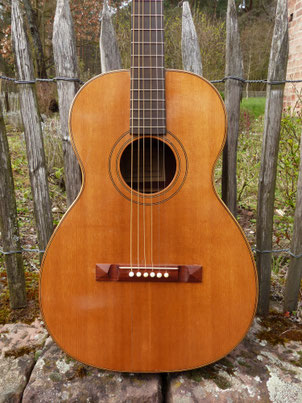 High grade spruce top. Top edge is bound with maple.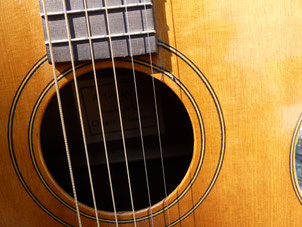 Two rings of purfling around the soundhole. Purfling around the top edge.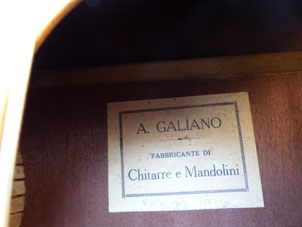 Original "Galiano" label in perfect condition.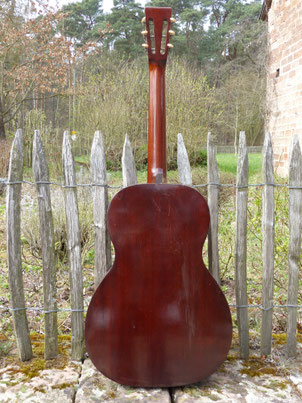 One piece, solid  mahagoni back.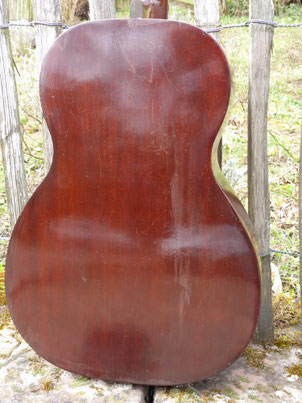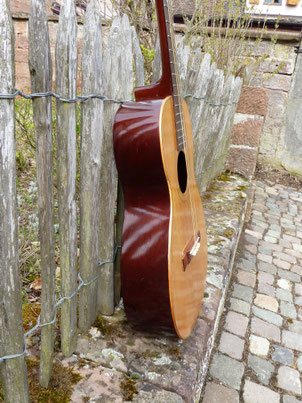 Soild birch sides. Body is  8,9 cm (3,5") deep at the lower bout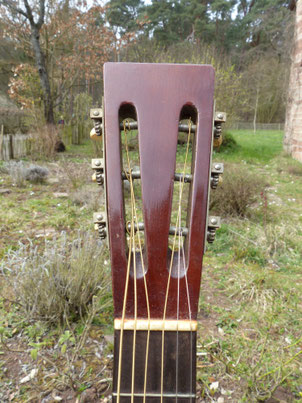 Original tuners and nut. Nut wide is 45mm (1,77").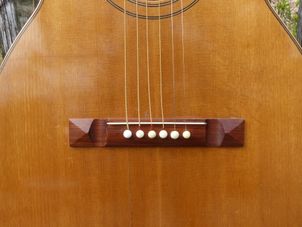 Original Oscar Schmidt made brazilian rosewood bridge with new bone saddle.
Schmidt imported the bridges from Germany and used it on the higher grade instruments.
This one has a superb tone, like mentioned above. Very responsive, very loud. A clear mid range and a strong bass, makes it ideal for playing Piedmont style or Texas style blues. When i played the guitar the first time i started with some Texas blues licks and the sound was mind blowing.
The combination of spruce and mahagoni gives a great projection, and the ladder bracing the right  bark. It turnes out that it is a great guitar for  Mance Lipscomb tunes. For the video i chose the beautiful  "Shake, Shake Mama".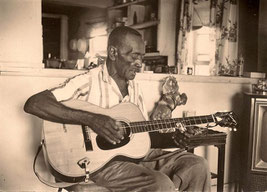 The picture shows Mance Lipscomp with his Harmony made Sovereign H1203 guitar.
Mance Lipscomb  was born in Navasota, Texas on April 9, 1895. and learned guitar when he was 11 years old. He stands in the tradition of the musicians of the 19th century with a hughe repertoire of  songs.
He was discovered and recorded by Mack McCormick and Chris Strachwitz in 1960 during the country blues revival.
Songster Mance Lipscomb died in Navasota,Texas on January30, 1976.
"Shake, Shake Mama" was recorded during one of his first sessions in 1960 (August 11) and is released on the Arhooli F1001 "Mance Lipscomb: Texas Sharecropper and Songster".